Dipayan Mazumdar – CEO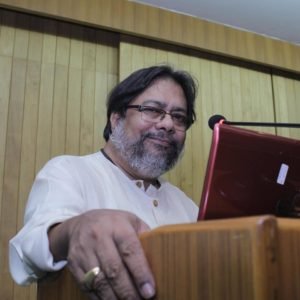 Dipayan with more than 40 years experience in the communications is a public relations expert with a deep understanding of communications related issues. Dipayan started his career in 1981 as an OSD, IXth Asian Games secretariat with deep insight into the intricacies of relationship building and hands- on experience of the meticulous planning that goes into handling national and international events. He remained for a decade working for leading publications like Times of India, The Economic Times and Sunday Mail before moving on to other side of the table. His understanding of the Indian political and business environment with an unbeatable access to influencers has helped DMA in building an intimate relationship with government officials, bureaucrats and decision makers, which helps clients in garnering goodwill & respect amongst the corridors of power.
As Director of Good Relations India where he remained for almost a decade primarily handling large Corporate in Delhi, Mumbai, Bangalore, Chennai and Kolkata before moving on to establish Clea Public Relations in Delhi as Director. During this period, he had the opportunity to handle international clients like Airbus, British Aerospace, Coca-Cola, Compaq and Mercedes to mention a few.
He established DMA in 1998. Dipayan has an enviable track record in media handling, crisis management besides public affairs. Among the critical and well-known situations he handled are 'TATA Steel' and 'BAT'. In his three decades long career Dipayan has handled nearly all categories and industries, from aircraft manufacturers to travel industry, social marketing for healthcare to aerated beverages, commodities to fashion. He was closely associated with Mr. Pierre Cardin, Mr. Luciano Benetton and Mr. Oliver Toscani helping them with their brand launches in India.
Dipayan is the founder Chairman of Legends of India, a registered society promoting Indian Art Forms. He is also a member of The Press Club of India, India Habitat Centre (IHC) and India International Centre (IIC), Public Relations Society of India (PRSI) besides many other social & cultural heritage organizations.
An alumnus of Jawaharlal Nehru University, Dipayan has been a Visiting Faculty with Amity Business School, Noida. Dipayan has been recently appointed as Media Consultant for CEAI (the largest association of consulting engineers in India).
Jayanti Ghosh, Director
Jayanti has over 20 years' experience in communication and public relations. She moved on to advertising and then to corporate communications working with HCL Hewlett Packard, one of the earliest joint ventures in the country. She next joined Good Relations and then Ogilvy Public Relations, where she headed Delhi for eight years. Jayanti has handled blue chip, prestigious accounts covering almost all industry segments. She has worked closely with the governments of Rajasthan and Uttar Pradesh, and international organizations like WHO and DFID. The 'Goli ke Hamjoli' campaign, led by her, went on to win the best healthcare campaign in Asia, the only Indian campaign ever to do so. She is especially proficient in public affairs and crisis management and is a visiting faculty at MICA, Ahmedabad.
Supriya C Das, Associate Director, Kolkata
Supriya, after decades with senior positions in world of advertising successfully ventured into PR almost a decade ago. He has launched and handled most of the top brands in India. He built up the PR practice in Education, handling prestigious institutions like Indian Institute of Management Calcutta (IIMC), XLRI and others. He has handled the Government of West Bengal initiatives in IT and placed West Bengal in international publications like Newsweek and Far Eastern Economic Review. Supriya was head of Contract Advertising, Calcutta, Ogilvy Outreach and Ogilvy PR Calcutta before moving to DMA PR.